NFPA 70E - PERRP OSHA Electrical Training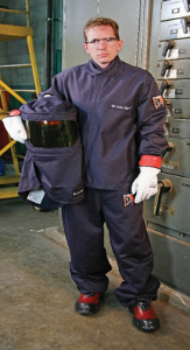 Starting at: $205.00
NFPA 70E/OSHA ELECTRICAL SAFE WORK PRACTICES CLASSROOM TRAINING
8:00 a.m. - 3:00 p.m., at the Safety Council of Northwest Ohio, 8015 Rinker Pointe Ct., Northwood, OH
Presenter: Bob Nicholson, JDRM Engineering
This electrical safe work practices instructional class aids in the steps toward fulfilling NFPA 70E 2012 Article 110.3 and OSHA CRF 29 Sub Part S 1910.332 requirements.
The course provides workers the general knowledge and understanding of the existence, nature, causes, and methods to prevent electrical hazards. Classroom instruction includes training on arc flash awareness; standards and codes; understanding of arc flash quantities; selection and use of appropriate PPE; reading and following warning signs and labels; methods to reduce risk while working on live exposed parts; arc flash hazard assessments; and safe work practices documentation.
This training covers the basic elements of how to develop an effective electrical safe work practices program and how NFPA 70E is used to demonstrate compliance examples with the OSHA standards. Employer's electrical task training requirements are explained and demonstrated.Included in this training is:
- Employer training requirements for their employees in their facilities.
- Electrical safety-related work practices -what they are and how they relate to arc flash hazards
- Policy and procedure steps required for an electrically safe workplace
- Key OSHA standards from CFR 1910.331-335 relating to NFPA 70E provisions and compliance interpretations
- Facility safety program guidelines and evaluations
Cancellations less than 24 hours in advance & no-shows are responsible for the full registration fees
To continue with the online registration and payment, select and fill in the information.