Bureau of Underground Storage Tank Regulations (BUSTR) Operator Training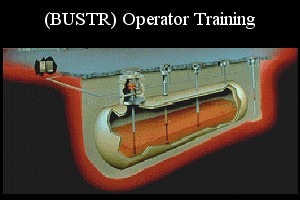 Starting at: $150.00
Bureau of Underground Storage Tank Regulations (BUSTR) Class A & B Operator Training
On August 8, 2005, the federal Energy Policy Act of 2005 was signed into law. This law mandated requirements for underground storage tank (UST) systems within the United States of America and its Territories. One of the many provisions in the Energy Policy Act mandated that operator training be conducted for owners and/or operators, designated owner representatives and station managers and/or clerks. On September 1, 2011, Ohio Administrative Code (OAC) rule 1301:7-9-19 Underground Storage Tank Operator Training became effective. This rule defines operator training requirements and procedures.
Pursuant to BUSTR regulations, Operator training must be completed by August 8, 2012.
Instructor: Mr. Robert J. May, PE, CHMM, Senior Engineer Synergy Environmental, Inc. Mr. May is a former Exxon USA Marketing Construction and Environmental Engineer with over 30 years of experience as an engineer in the mining and environmental services industry. Synergy Environmental Inc. is a full service environmental consulting firm servicing a variety of public and private sector clients primarily in the Mid Atlantic and New England regions
This training will be offered as a 4-Hour interactive training with morning sessions scheduled. Morning class (AM class) is 8:30am - NOON, Classes are held at The Safety Council of Northwest Ohio, 8015 Rinker Pointe Court, Northwood OH.
Registration Fees Per Session - Members: $150.00 per person ($125.00 for each after 2), Non-members: $225 per person ($175 for each after 2)
All students successfully completing the training course will receive a certificate of training for Class A and Class B operators.
This form stopped accepting submissions on September 28, 2017 8:00 am EDT.